Everyone has a part to play. We don't leave everything to a few people. In all areas of church life, many people serve and someone will be responsible for that area.
We also have a Core Leadership Team who meet regularly to pray and have oversight of the church.
Here's a summary of some of the testimonies we've heard this year at LifeLine Church – just the tip of the iceberg of what's been happening amongst us. We are thankful to God for his goodness, his faithfulness, and his enduring love towards us both in the good circumstances, and crucially despite the difficult ones!
"Be thankful in all circumstances, for this is God's will for you who belong to Christ Jesus". 1 Thessalonians 5:18
Housing & Accommodation
This year several people testified to God's provision around housing – Chris & Hilary, Miro & Mara, Kudzai, and Matt and Rachel all shared how they have found homes locally that enable them to live close to the church community, despite financial or practical difficulties. Matt & Rachel overcame visa and accommodation hurdles and are now living in their new flat & looking forward to the birth of their first child! After years of struggling to see how purchasing a family home could ever be achieved, Kudzai testified to us about a conversation with a faithful friend who encouraged her to ask God if he had something for her beyond what she expected. After being warned her wait may be up to 15 years, a phone call out of the blue brought news of a purpose built, three bedroom flat for life and gave us a glimpse the plans & purposes God has for her and her family, and this extravagantly generous God of the impossible. Chris & Hilary testified of their new home, "It feels like the house was purposely prepared and tailored for us – in layout and everything". On the day of the move as Hilary contemplated how to manage the move with a bad back, a friend felt prompted to offer to help in whatever way necessary.
In these testimonies we see evidence not only of God's provision, generosity and involvement, but we also glimpse the beauty of the church in action. Friends who are stirred to action. Many hands making light work of furnishing a flat – offering furnishings, helping to physically move them in, and offering support in many other practical ways. Families offering to have other families live with them until their accommodation needs are met. Sacrificial giving in financial, but also practical expressions of love. We praise God for the love he stirs up amongst us.
"A new command I give you: Love one another. As I have loved you, so you must love one another. By this everyone will know that you are my disciples, if you love one another." John 13:35
Healing and Protection
This year as a church community we received the gift of many new babies born to families amongst us. Myles Jones joined us months earlier than expected, and we had opportunity to join together to pray for his health and wellbeing, and that of his family over months of hospital care and health hurdles. We thank God for the miraculous ways we saw His hand over Myles throughout the process & that he is now home with his family. We also heard from Jamie how during a time when William was hospitalised for an unknown illness, at key points following prayer and intercession they saw God's provision and peace, and William was released to return home. We also gave thanks for a number of children & babies born amongst us, and for a God who equips us as parents and community to care for and contend for the lives of our babies & children – just as we see in the stories of Moses and Jesus.
"When they had gone, an angel of the Lord appeared to Joseph in a dream. "Get up," he said, "take the child and his mother and escape to Egypt. Stay there until I tell you, for Herod is going to search for the child to kill him." Matthew 2:13
Eli shared a story of her son praying for her, a prayer that she believes may have saved her life later that same day. Baba shared how he walked away from a motorcycle accident. Rachel & Dennis shared a remarkable testimony of how having a minor car accident lead to the police being able to find them at a later date to ensure Dennis was admitted to hospital for urgent treatment. Rachel testified to how this communicated God's involvement in their situation to her in a way that allowed her to find peace, despite such worrying circumstances. Dennis testified to an absence of fear throughout his treatment!
A God Who Delights in Us
Sally shared her testimony of an encounter with God after a period of feeling low. She spoke of her revelation of a Father who was laughing, delighting, joyful and pleased just with who she is, rather than a frowning, disapproving God who was disappointed at her lack of consultation on the issues she was facing. We recorded Sally's testimony here https://vimeo.com/344858119 if you missed it.
"The Lord your God is in your midst, a mighty one who will save; he will rejoice over you with gladness; he will quiet you by his love; he will exult over you with loud singing". Zephaniah 3:17
Boldness & Expectation
Some amongst us have been experiencing an increase in boldness, in expectation for miraculous signs of God's love and involvement as they step out to pray or care for strangers, neighbours, family or friends. Tanya shared how she has had several opportunities to use her gift of art, and relating easily to people so they open up, to share the love of God and pray for people. Julie seizes opportunities to pray for people she meets, including praying for healing for neighbours and people she meets in the park. David and Tanya shared how they found countless opportunities to testify of God's goodness because of the grace and encouragement they found during Tanya's battle with cancer and fear. We have truly seen God use situations of pain or suffering amongst us to demonstrate more of his love, provision and grace.
"But as for you, you meant evil against me; but God meant it for good, in order to bring it about as it is this day, to save many people alive". Genesis 50:20
We also heard testimony of cysts disappearing after prayer, money arriving after financial difficulties revealed, visas being granted, funding being awarded for training and employment, favour with Ofsted, disability benefits and employers, the ability to manage workload more peacefully, and much, much more.
He Delights in Me – Sally's testimony
I'd been really quite low for some time, not sensing God's presence, and becoming very focused on my problems rather than God. I recently realised that I was beginning to lack hope. ('My feet had almost stumbled; my steps had nearly slipped …') (Psalm 73:2)
John spoke on a Sunday morning about Practicing the Presence, and it very much resonated with me. My response was, 'I really need you to do something in me Lord – things can't stay like this.'
The next day I went to my Development group – fairly reluctantly with not much expectation.
Richard, who leads our group, helped us revisit John's talk then asked us to 'chat and catch' with God. First we had to tell God what was on our minds/what we were worried about etc. I told God all about how stressful and difficult I was finding life – and especially about a situation my husband Grant and I had tried to fix without really asking God what he thought. I didn't really expect to hear God say anything much to be honest – why would he bother when I hadn't really involved him when it mattered?
But then, during the 'catching' bit, God just broke in – and broke me!
I had a picture of the Father sitting in an armchair, rocking backwards and forwards with the kind of laughter that's so contagious it makes everyone else fall about laughing. He had tears rolling down his cheeks and he kept slapping his thighs and holding his belly. As I watched I wanted to laugh too – but I also wanted to cry.
Then the picture changed and this time I saw Grant and me sitting on two chairs and the Father was standing in front of us, facing us, with one hand on my shoulder and one on Grant's. And he was still rocking backwards and forwards, still laughing – the same deep belly laughter as in the previous picture. I didn't hear him speak, but what I picked up was his absolute love, acceptance, and delight in us. What struck me was that there was no hint of disapproval. He wasn't even saying, 'You didn't ask me, but I love you anyway.' Anything that we had done or omitted to do was irrelevant – it wasn't in his thinking. He didn't even offer a solution. He was simply delighting in the humour of the situation, but more importantly, in us!
I realised that for my whole life I've believed that God loves me in spite of who I am, rather than because of who I am (his creation, planned before the beginning of the earth). I now understand for the first time the truth of Zephaniah 3:17 '…He will take great delight in you; in his love he will no longer rebuke you, but will rejoice over you with singing.'
I can't even begin to express how different I've felt since. It feels like a weight has been lifted off my shoulders and I have felt his presence in such a real way.
Battling Anxious Thoughts – Lotty's testimony
Before Christmas I was really struggling not to think about a particular situation.  I was trying to 'take thoughts captive' but kept finding myself mid-train of thought, worrying about it.  I felt quite overwhelmed and hopeless.  There was a sense of condemnation that I couldn't take the thoughts captive, even using tools I'd used before.  I knew the truth, but it felt like the worries would never go.  It was taking my attention and exhausting me.
I went up for prayer on a Sunday, and one thing someone said to me gave me hope – that I would really know what 'taking thoughts captive' means in a new way.
The thoughts didn't stop.  But one day I was walking to school to pick up the kids and God told me "I completely approve of you".  I instantly felt lighter, and felt my face fill with a smile.  The thoughts were still there but it was like they had been put in their place – they weren't at the top of my mind, they were at the bottom of the pile because something far more important was in their place – an awareness of God's presence and his approval.  It meant when I started worrying again, I could choose to put those thoughts in their place.  The people I was with or the things I was doing had my attention again.
Set free from a 60 year fear!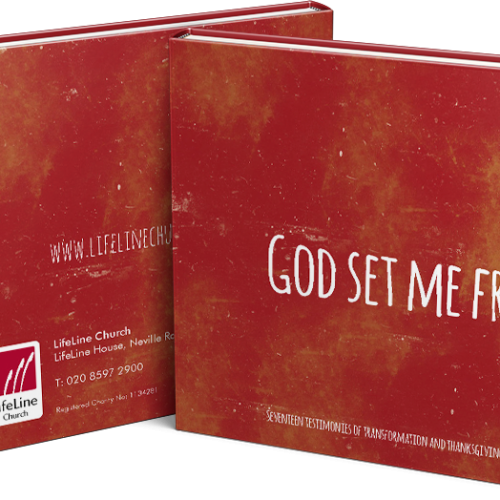 When I was about 10, I nearly drowned. It left me so scared I didn't want to go anywhere near water. I never asked for help with my fear – I just didn't want to know.
My fear was so bad that when my daughter got baptised, I couldn't even watch. It was like carrying around a bag of worries that paralysed me.
In June (2014) my husband and I celebrated our ruby wedding anniversary with a family holiday in France. The place we were staying in had a pool. I didn't think I'd be going near it but I did pack some shorts. Before we went, I found myself praying, "God, I want to be different. Make me willing to change."
I couldn't believe what I'd said.
On the second day, I was watching everyone in the pool and thought, "I can do this…"
A friend held my hand and led me in. I was terrified but I thought, "I'm going to do this."
Eventually I let go and swam across! I'm now having swimming lessons.
God set me free from a 60-year fear. It's never too late for God to change things.
This testimony is from one of our young people who is living away at university:
"I recently had an opportunity to pray for a young woman who had previously had a malignant tumour, and at a recent check-up had been told she had another tumour. She was scared that this tumour may also be malignant, and need to be removed.
I prayed that her fear would be removed and that when she went back for her check-up the tumour wouldn't be there at all & that she would be able to testify to God's healing power
A scan was done and the woman was completely confused by what she saw, she explained that there was now NO tumour there. She could see absolutely nothing, whereas before it had walls etc, it had vanished.
Praise God that he is so mighty…we partner with God and tumours are cast out!!
Please continue to pray for all our young people, at school and university, that they will have great courage, boldness and faith, demonstrating the love and power of our Great God!
An Unexpected Opportunity – David's journey
Ever felt restless and a little stuck in a rut? Not seeming to be going anywhere and questioning your reason for being? Wondering if God had any purpose for you any longer?
I've been a Christian for over 20 years and during that time God has done some amazing things in my life, bringing me out of a life of fear to a life of hope, miraculous healings and amazing provision. Even being touched by Jesus and experiencing his love for us, the list can go on. But about a year ago I found myself in a restless place, I was relatively happy but felt that there should be more purpose to my life, life was a bit… dull. At the same time I was wondering why many people I knew had received prophetic words spoken over their life by visiting prophets but I had not. Was I not important enough to receive a prophetic word? Did God not have a plan for me?
Then God in his grace decided to answer that question and I found myself in a place where He did just that and I received my first major prophetic word. The message was long and in depth, talking about my past, present and His plan for my future. Though encouraged by this message and His answering my request, at the same time I was a bit disappointed that the word for my future was one of being 'steadfast' and 'lion hearted'; nice words but not very inspiring.
Then in the January something happened that turned my peaceful life upside down, my wife was diagnosed with cancer. All at once my safe and steady life came crashing down as the thought of what this might mean invaded my inner peace. What would happen to my wife, my children, my job? Would I have to stop working? How would we pay the bills? Could I cope with being a house husband and caring for my sick wife?
After some very helpful prayer from the church elders and their words of encouragement, my mind cleared and I started to seek God for the truth in what was happening. One of the first things he said was: 'Live life in the reality of the moment. Stop thinking about what could or might happen but actually stop and see what is happening!'
The second word that God gave was 'Jesus is walking with you in this journey, he will see you safely through to the end'.
Over the next few months of treatment and sickness there were lots of opportunities to be declaring these words as Tanya went through the process of chemotherapy and the associated after effects: tiredness, emotional ups and downs and physical discomfort. We had also heard lots of horror stories from people that had gone through terrible trials while on chemotherapy, but we felt determined not to live in the expectation of what had happened before but to trust God fully and to continue to praise Him and seek Jesus protection and support during the process. As we did that together our spirits were lifted and we continued to receive renewed hope and joy in our family, being steadfast and lion hearted in declaring Gods truth was the key to accessing God's grace, and His grace was abundant throughout this period, and quite amazing. From the timely intervention of the doctors, the care of the nurses, support from work colleagues, the love, care and support of our church family and friends, protection from most of the major side effects – all of these came together to demonstrate His grace . The love and support poured out on us has been overwhelming.
Another unexpected bonus of the situation we found ourselves in was being given the opportunity to share God's goodness and grace testimony with those around us, family, neighbours and work colleagues. Although it wasn't a secret at work that I was a Christian and part of a vibrant outreaching church community, the subject of God, Jesus and His grace very rarely came up. But now colleagues, some that I knew well and some that I didn't, wanted to hear how we were getting on and all I felt to do was share the wonderful truth that God was with us and that he was protecting and guiding us through what could have been a very horrible situation.
The Bible speaks a lot about giving thanks to God and seeking Him in good times and bad, and recently He reminded me of the story of Jesus healing the 10 lepers (Luke 17: 11 – 19). In the story Jesus heals 10 lepers, but only 1 came back to thank him. Jesus was very pleased with that man and says to Him 'your faith has saved (healed) you'.
Like the Samaritan in the story I want myself and my family to be the ones that go back to thank Jesus for his love, care and healing, not dwell on the trial we find ourselves in, but focussing on Him and giving Him praise for standing by us in it.
There is opportunity in the trails we find ourselves in when we trust in God and recognise that he has a plan to prosper us and not to harm us. His plan to help us grow in faith and understanding provide the means by which we go from just plodding along to living in the fullness of His grace. The opportunity to not just survive suffering but to prosper in it, in order that we can be a witness to help others to overcome fear. God has reminded me that He is faithful and He does have a plan for me. That everything that has gone on in my life before is relevant and beneficial to what is happening now.
So what have I learnt from this 'unexpected opportunity'? Just like Bilbo Baggins in the Hobbit: an unexpected Journey (from which my title is based) I was a set on a journey not by choice but by Gods design, to show that even though I may not be the biggest or the bravest, God can still use me to reclaim things that the enemy seeks to take away. The power to overcome is not by my might alone but is a combination of binding together as family to stand up to the enemy, to trust in the power of the Holy spirit to deliver us from traps of the enemy and allowing Jesus to take us along the journey to a safe and victorious end.
It also showed me that God has a plan for me. He meets me where I am. He gives me what I need when I need it. He knows me personally and works with me through my strengths and weaknesses that he can use to His purpose. As I trust Him I can expect to be given the strength and wisdom to overcome any obstacle. What He places in my heart and mind, however small is still important because together we make it a reality. It is testimony to His great glory and power.
Finally I want to be one of those people that when God delivers goes back to say thank you Jesus! One who rather than turn away from God in time of hardship, instead embraces Jesus and holds his hand as he prepares the way and leads us through the unknown to a safe and victorious end.
Amen and Praise God.
Coffee, art and Jesus… Jeremy's journey
It was Christmas 2016 and I needed a job. My wife, Jane, asked me at the time, "Well what are you most passionate about?" I thought for a minute. "Well actually I really like making coffee. And I love being creative, making art. But I also love speaking to people about Jesus. Sharing my faith, and my testimony". Jane asked me, "Why can't those things all be rolled into one?"
It seemed an unrealistic flight of fancy until she discovered a job advert for an "evangelistic barista" position at a place called Husk – a coffee shop run by London City Mission. Well, I applied, and was offered the job – only to discover that Husk was also an art gallery and creative space. You can't make it up!
Things didn't end there, though: after an intense few months adjusting to the exacting coffee standards at Husk (I thought I knew how to make coffee!) and finding my fit in the team, my manager approached me to say that our café supervisor had resigned and he thought I should go for her job. I thought to myself: "but I was just getting comfortable!"
I've often struggled with this concept of comfort. Naturally, I want to be comfortable. Perhaps you are the same. But throughout my life God has seemed so intent on stretching and challenging me that I'd come to the conclusion that He wasn't interested in my comfort. But I was wrong – in fact, He wants the opposite, He's passionate about our comfort! Only, He wants us to enjoy the comfort that He provides, not the comfort we feel we can provide for ourself.
The early Christians, Acts tells us, walked "in the fear of God and in the comfort of the Holy Spirit" (Acts 9.31). The name John gives the Holy Spirit can be translated "comforter" (John 14.16). Here's a question: when do you need the comfort of the Holy Spirit? When your own resources for comforting yourself have dried up and your surroundings look anything but comfortable. Because it's in that place that God's supernatural comfort, which surpasses anything man-made, kicks in. And as long as we're preserving our own personal "comfort zone" we'll never get there.
On a Sunday recently, we heard about being in "God's gym". I went to a gym once. It was torture. My friend had me doing weights for an hour and a half and by the end I lacked the strength to push open the door to the toilets. My first few months in the supervisor role felt a bit like that. Muscles I didn't know I had were being prodded, pulled and warped in seemingly unnatural ways. It was painful. Confronting people. Encouraging people. Trying to build team morale. Sorting out disagreements. Making decisions on the fly. Organising rotas. Managing stock meticulously. Customer complaints. All things that I would have said were not in my natural skill set.
But you know what? In all of this I have changed. I thank God that He sees more for us that we can see for ourselves. He wants to enlarge our capacity and get us doing things that we would never have dreamed of doing. He wants us to step out of our comfort zone and into His: the place where we are truly moulded and grown. It may not be easy, but we have a Comforter who knows what He's doing.
In short, the gym works. When tested, muscles get stronger. Having said that, I don't think you'll find me in Gold's Gym Dagenham again any time soon.
New things… Rodie's testimony
About a year ago I was coming to the conclusion that my job wasn't all that I wanted to do with my life – but I didn't know what was. I was talking to a friend about this, and she said, "I think now is the time to be brave". (Incidentally, I recently reviewed LifeLine Church Doulos teaching on accountability, which says that part of accountability is enabling the other person to see potential in you and release you to fulfil it, which really fits.)
I decided that what 'being brave' looked like was reducing my work to four days a week so I could spend the other day exploring options (and thankfully my husband Dave was ok with that!) My friend suggested some different people I could talk to.
Through those conversations I began to think about doing a PhD, and came up – again through one of those conversations – with a perfect topic to research. It really felt like it just suggested itself.   I took some time to write my application over the next few months, feeling really excited about it. It was scary too, and I had to do quite a lot of actively fighting off thoughts of self-doubt, but I also had peace that trying this was the right next step, and the outcome would be in God's hands. As I was finishing off the research proposal I had a real sense of God helping me with the writing, just to focus and get it done.
I submitted the application for the university place in January, along with a preliminary application for funding from a research council. This would pay the university fees and give me a grant to live on – so it's a really good deal, and therefore there's a lot of competition. With the promotion that my husband got a few months ago, if I got the funding, it meant we would be on the same amount of money as we were last year – so his promotion would make up for what I would be losing by stopping work.
At the end of January, I heard I was successful in that first round of the funding application, so I had to submit a full application by the beginning of March. During this time, I had a meeting with the academics who would be my main PhD supervisor and second supervisor (because they both had to write some sections of the application). I came out of that meeting so excited and happy – it was like getting a shot of adrenaline. I had that feeling I hadn't had for a very long time: 'This is what I'm meant to be doing!'
The application went in and the result was due in 'early May'. I waited and waited – because I also hadn't heard back about the university place. But I still had peace. A couple of people said to me "I think you're going to get it" and I felt faith too, which is strange because you don't want necessarily to go round saying you've predicted the future and it's all sewn up. So I tried to focus on thanking God that whatever happened, he had it covered; that I had felt that to apply was the right next step and I'd done that, and whatever the step after that was, he would show me.
I tried looking for some alternative sources of funding in case I didn't get the one I had applied for. But for everything I found, either the closing date had already passed, or you needed to have the university place confirmed first to be able to apply. It kind of felt like I had no Plan B – because without the funding I didn't think I would be able to do the PhD (it's pretty expensive, so the alternative would be to do it part time and work part time, which would take about eight years and really didn't appeal!) So I kept asking God to make the way.
I chased the university and eventually one afternoon heard that they had given me a place. And then the next morning… I also heard that I had got the funding. I was over the moon!
Incidentally, that same morning I had a hospital appointment and got some not great news about my health, which any other day might have got me down a bit. But as it was, I just have the perspective of: God has given me this thing to do, so that's what I'm going to focus on. It felt like God was even blessing me in the timing of that news.
Sooo, it was a long old process – pretty much a year. But I felt God was with me in it. There are some situations where it's as though you really have to fight, but with this, although there was a lot of time and effort involved, I never had to battle for peace about it – I just always had it, and felt excited about the whole thing.
I want to thank God for:
– my friend who prompted me to take a step to change things
– the way He helped through the process with things like giving me a good project to research, the money and the health news
– His amazing peace and the sense of excitement all the way through