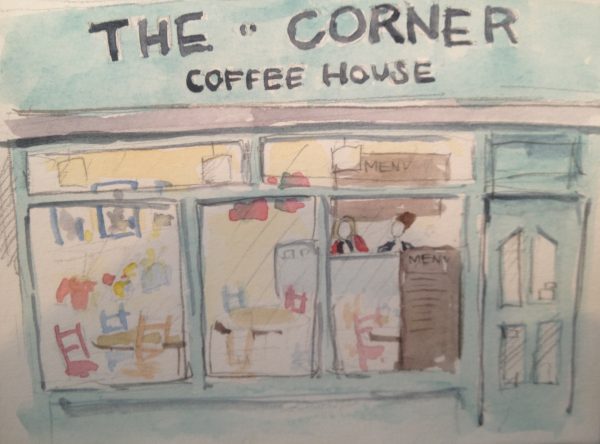 In 2013 a bunch of us sat in a living room dreaming about opening a coffee shop close to where we live.  It was probably a love of coffee that brought us together, but none of us imagined how God would take our passions and marry them together with His love for the people that would come.
We renovated the premises ourselves as a church team, and in 2013 we set out on an adventure to see if it was possible to change the local atmosphere and reach a neighbourhood.
I've lived in Dagenham for 28 years, and probably felt just as disillusioned about the graffiti and the rubbish as everyone else. But when we opened The Coffee House, suddenly things started to matter. What if we showed love to an area, a street and the people who live there?  After all, we're salt and light, and things should look and taste different because we are there.
A shop puts you on the map in an area. We got to meet the people who are the heart and soul of the neighbourhood, and they became our friends. Over the threshold of the shop, we welcomed everyone, and the joys and challenges that it brought! Chatting to strangers is a beginning, but they soon become friends, and then feel like family. It got a bit blurry at times: customers dropping in for cups of tea, at our house, not the shop; taking funerals; sorting out food parcels; wiping tears; celebrations; hosting Christmas and carols; giving support and advice.
We wanted to make a difference in our community by bringing a breath of hope and energy into a tired shopping parade too. We hosted a network of other business owners, the police, local councillors and charities, and this started by us saying that what mattered to them, mattered to us.
I remembered when my son and I went to pray for one of the local business owners as he closed his business.  We just wanted to bless him in the future. I'd floated an idea with God to do some sort of meal for customers at Christmas, but I had no idea how to do it. And I hadn't told anyone.
After we prayed, he opened his eyes, and asked if I needed food for anyone and, did we have a kitchen? I felt so excited that day. God heard my heart and used a business owner to make it happen. He and his family provided and cooked a meal for over 100 people, and together with 60 of us from church, we hosted a big Christmas party for the community.
Over 7 years we've trained over 90 volunteers to make barista coffee and serve the public. It became a place of belonging and serving for volunteers too. When we opened 70% of our customers weren't from church, and to our surprise, that remained the same. This was a good thing, as it was never about creating a cosy church coffee shop 'for us', but instead we always wanted to explore how to 'be' church – meeting people exactly where they were at, and bridging that connection in an authentic way.
In March 2020 we faced the challenge of closing the coffee shop for an unspecified period of time as the pandemic took hold. By now we had become a significant gathering place for many people, and  naturally we wanted to get in touch with our Coffee House 'family' to reassure them. As a shop, we were never a project with an attendance register, so we didn't have a database of contact details.
God arranged this for us. As we closed the shop, the customers we had wanted to contact passed by one by one, and we were able to ask permission for phone numbers. Many of our customers have been regularly contacted by staff volunteers over the past year: to befriend, pass on key information or ask timely questions such as:
'Did you know there's a virus?', and 'Do you have enough food?', as well as sharing key government updates and more recently supporting people to have their vaccine.
I am thankful to God for this story of friendships, challenges, testing ideas, building team, celebrating together and exploring how to 'be' church as a force out there in the marketplace.
God sees and hears our dreams, and together we can accomplish so much more than we ever imagined. I wonder what's around the next corner?